Brand identification and formation call for service providers that can assist you with the ideation and innovation of your brand. Many businesses around the globe might be selling products of the highest quality, but their brand representation may fail miserably. Thus, such businesses tend to look for professionals that can uplift their brand through cutting-edge marketing techniques and brand-building strategies. However, elevating a brand can be quite expensive for its owners.
Small to medium-sized businesses do not have the capability to afford such expensive services. Such small business owners are great at finding alternatives to be successful in the beginning phase of their business cycle. Therefore, for brand development strategies, they prefer services that are affordable yet result-producing for their marketing needs. This is the reason why they prioritize embroidery digitizing services for their brand formation strategies. Thus, as a business owner, one should know how to begin with affordable embroidery digitization services for their respective brands.
How to Begin with Embroidery Hat Digitizing Services
Embroidery digitizing services around the world are quite popular for their effective results and fast-paced services. Various industries prefer digitizing services to cater to their brand-building needs. Services like hat digitizing services and logo digitizing services are two of the most preferred. These two services allow business owners to portray a certain identity for their respective brands.
Getting started with your hat digitizing services and logo digitizing services is not that hard for newcomers. All you have to do is consider a few things before selecting your desired service provider and beginning your brand-building campaign. Here are a few things to consider before finalizing your decision to choose any service provider:
1 Expertise
For you to select the best hat digitizing services to help you with your brand building strategy, you should be aware of whether the service provider is expert enough or not. Inexperienced service providers cannot produce quality results, and you can easily figure that out by comparing designs. The more experience you have, the more quality you will receive from your hat digitizing services. Your company profile gets a professional look with hat digitizing services, as your customized logo printed on the hat of your employee will reflect brand uniqueness and recognition.
2 Portfolio
Going through the portfolio of your desired service provider will allow you to judge the diversity in the artwork of this service provider. Thus, you will get an idea about the overall performance of this service and whether you are interested in the same category of work or not. Many business owners do not go through the portfolio of embroidery digitizers. Thus, it is a must that, for your hat digitizing services, you go through the portfolio of your desired service provider.
3 Pricing
Pricing is an important thing to look for before selecting any service. And just like that, while selecting your desired embroidery digitizing service, you should seek out the pricing packages they offer. Thus, keeping in mind your expertise and portfolio, you will now be able to compare the prices of different service providers. Therefore, opting for the best service at a nominal price is not a hard thing for you anymore. Hat digitizing services call for different pricing packages for different design types.
4 Customer Reviews and Ratings
The best thing to help you get to know your service provider is a customer review. Reading customer reviews and ratings on multiple platforms will allow you to make the perfect decision while selecting hat digitizing services for brand building. These reviews sometimes pinpoint the digitizing company's skills and capabilities. Thus, going through the customer reviews will help you a lot in making the right decision.
A Complete Guide to Getting Your Design Digitized
Digital embroidery adds a timeless appeal to your fabric, hats, wallets, and whatnot. There is no limit to customization in embroidery digitizing. Companies get their marketing needs sorted with the help of professional digitizing services served around the globe. Transforming your favorite art into top-notch embroidery design is possible with embroidery digitizing services. Affordable embroidery digitization services served around the world offer very nominal pricing packages for various design references or even customized designs or images.
In our comprehensive blog, you will learn how to get a perfectly digitized design for your company's brand identity needs or even personal needs. To cover your brand expansion plan, you can always look for hat digitizing services that can make customized hat designs to represent your business on a single hat. In this way, you will have your brand's name represented on the streets of New York, LA, Chicago, or Houston. Thus, avail of professional embroidery digitizing USA, today.
Through this blog, you will get the right direction in terms of selecting the best embroidery digitizing service for your favorite to be digitized. All you have to do is follow the simple steps to receive a beautifully crafted embroidery design for digitizing needs. Below are the steps to get the perfect embroidery digitizing service:
1 Design Selection
The selection of design depends a lot on the result of your product, especially in the business of digital embroidery. The first step you should focus on is selecting the best-suited design for your logo or hat digitizing services. The selection of design sets the path to all other steps of embroidery digitizing; therefore, it is the first and most important step in the art of embroidery digitizing. Most individuals select already-made designs or select an image from the internet to be converted into vectors prior to the file custom embroidery file conversion.
Businesses, in contrast to customers, opt for unique designs that are different and new to the market, just to look different than others. Therefore, major embroidery digitizers provide fully customized services to customers, where innovation flows and brand identity of the highest caliber gets crafted. The selection of design will allow the digitizer to set the design size in accordance with the fabric or any other area of use. Thus, this step is the core step of embroidery digitizing. Ensuring that your design is high-resolution art helps a lot in achieving amazing results.
2 Selecting the Right Digitizing Service
Choosing the right digitizing brand is the key to success for business owners. Selection of the right service is possible by keeping in mind the above-mentioned points of this blog. However, service providers like Digit-IT serve their clients with prolific embroidery digitizing services that are nominal as well as professional. The right use of technology is another one of their main features, which really makes them the best embroidery digitizing company in the USA.
3 Submit Your Design
Once the selection of design and the service provider is in the rear-view mirror, the next step is to submit your file to the digitizers. The digitizing team requires you to select from the already trendy templates in their collection or even provide a sample of your own.
Your favorite art design can also become an embroidered patch sitting on the left chest area of your jacket with embroidery digitizing. Hat digitizing services call for unique and eye-pleasing designs; thus, businesspersons should ask for completely unique concepts for their respective logos.
You can submit your design in multiple formats. For instance, JPEG, PNG, or vector files like AI or ES are the various formats in which you can submit your design to the digitizer. Moreover, you can also provide extra instructions to the digitizer apart from the design file just to make sure everything stays just like you want it to be.
4 Embroidery Digitizing Process
Your design file is now set to go through the process of embroidery digitizing. Major digitizing companies follow a certain chain of steps to carry out a successful embroidery design for their clients. This chain of steps has further stages where the design takes on its true shape and colors. All these steps take place behind the curtains for any client. The following are the further steps required before finalizing the design:
4.1 Set the Design Size
Not just hat digitizing services, but all other embroidery digitizing services follow this step to carry out a successful embroidery design for the client. Setting the size is one of the most basic principles of digital embroidery, as the chances of fabric damage increase with ignorance of this step. By setting the size of the design, you can perfectly position the design on whatever material you want. Thus, it is one of the most important steps for professional embroidery digitizing.
4.2 Color Setting
Color setting is another important step in professional embroidery digitizing services, especially in hat digitizing services. Quality embroidery design digitization services have beautifully crafted designs that look pleasing to the eyes. They look so pleasing because of the perfect color setting prior to running the digital file on the embroidery machine. Business owners look for unique-looking logos and art, and what's better than a design that has the perfect use of color blends?
4.3 Path Creation for the Design File
Professionals working in embroidery digitizing companies have the talent to convert your digital file into an embroidered design. This conversion is possible with the help of manually defining stitch paths on the machine and with the help of extreme knowledge in digital embroidery. This task is also possible through multiple high-tech machine-readable programs.
The machine can easily read any digital file with the help of such a software program and work the magic as the design size, color, and stitch paths are perfectly defined through the software program. By keeping in mind all the above points, we receive sharp results that are aesthetically sound and eye-catching.
5 Review the Proof
Before finalizing the product, the digitizing company sends you a proof design. Based on this design, you will decide whether to go forward with the final product or not. Companies usually check for the sharpness of the design, along with the blend of colors and the overall look of the design. Placing the proof design on your hat, bag, shirt, or jacket will allow you to get the perfect image of how your design would look on the material.
You should also look for spelling errors, if any, before giving the green light to the hat digitizing services' team. Below are a few things to consider while reviewing the proof:
5.1 Accuracy of Design
You should check whether the design is the same as you thought it would be before choosing the design type. Double check the size of your embroidered design, as for a bulk order, you might not be able to save a bunch of products from multiple errors like size adjustments. Therefore, checking the accuracy of your design is a must before finalizing the finished product.
5.2 Stitch Density
The quality of embroidery can be disturbing if the density of your stitch is not perfect. You should manually check the proof design for stitch density. Looking for areas where the density of your stitch is too high or too low allows you to ask for adjustments in the design to make a perfectly shaped embroidered patch. This check always tends to help those clients who purchase in bulk.
5.3 Thread Colors
The correct use of colors is a must for any brand, especially for those seeking brand formation ideas and concepts. Therefore, checking the color blending in the threads of your design is a necessity. Correct use of color blending provides you with eye-pleasing visuals in your logo placed on a hat, bag, jacket, or shirt.
5.4 Sizing
You should always check the size of your proof design before giving the go signal to your digitizers. The size of your design should be perfect for branding purposes. In most cases, the design looks too small for your potential clients to figure out the purpose of your branding. A size that is too big can also cause problems for business owners, as it can scatter the overall visual concept of your logo. Thus, your embroidery design should be of the perfect size.
6 Finalizing
After a thorough review process based on some of the above-mentioned tips and tricks, a business owner should proceed further. Further revision or approval depends solely on you before you give the green signal to your hat digitizing services provider. The final approved file will then go on to be your approved design for your brand representation. Moreover, your digitizers will note down all your instructions to get the perfect result for your respective brand recognition.
7 Receive the Finished Product
After all the instructions and approval are done, the hat digitizing services providers will present you with the digitized file, which is readable by the latest embroidery machines. The next step after receiving your digital file is to find an embroidery shop that entertains you with your hat digitizing services with the help of your finalized digital file. In this way, your hat digitizing services, or logo digitizing services will come to an end.
Now that we are totally aware of how to digitize any design using custom logo digitization for embroidery, let's move towards learning the significance of hat digitizing services.
Hat digitizing services are very famous around the world, especially for the diversity associated with them. Such services prove to set the bar very high for companies that look to give a tough marketing battle to their competitors. Your competitor can see your brand's name being placed on the heads of many throughout the city if your design and advertisement can attract eyes towards your branding. Thus, mega brands prefer hat digitizing services over any other marketing and brand expansion strategies.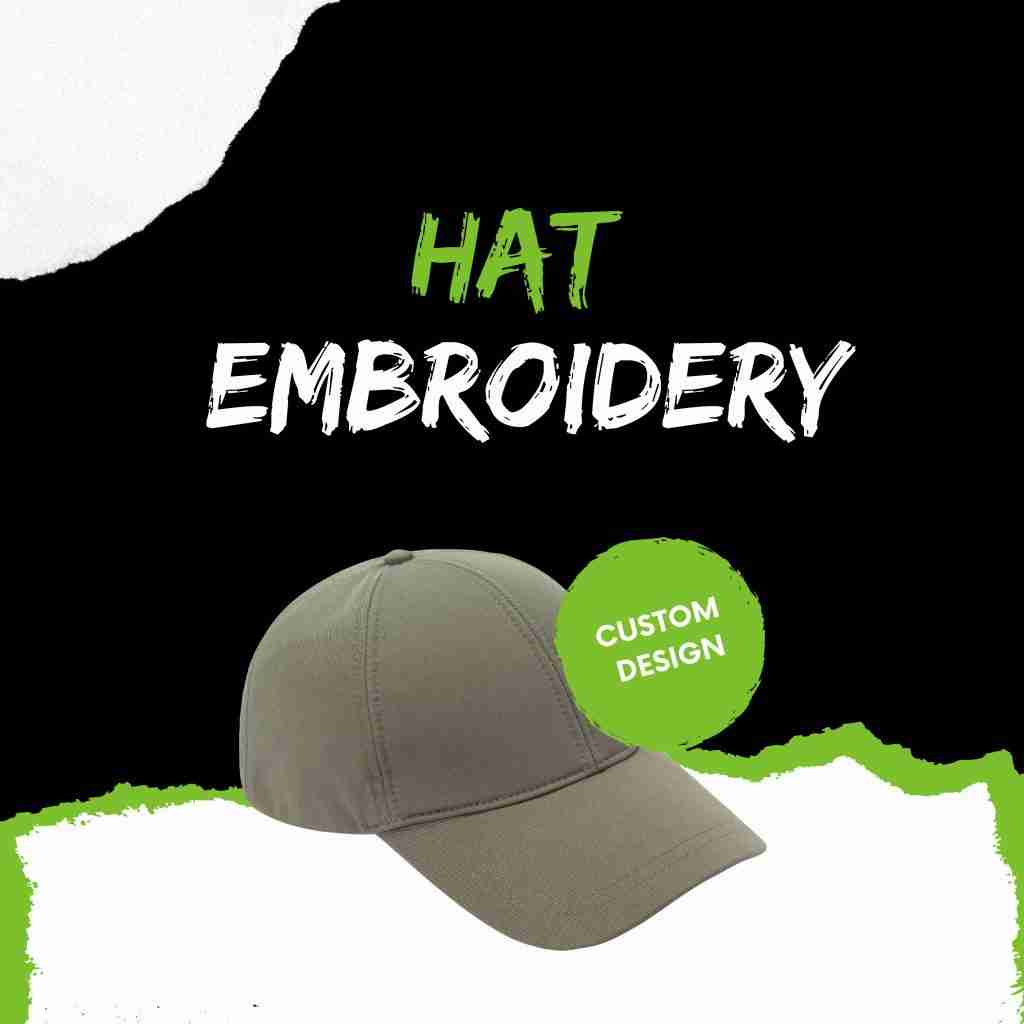 The Significance of Hat Digitization
Hat digitizing services are one of the most prominent services to keep up with your branding planning, as this customized apparel service brings out amazing results. Embroidered designs tend to steal your attention through the precise use of threading and colors. Thus, hat digitizing services are at the top of the list for branding ideas for businesses. Here are a few points that highlight the significance of hat digitizing services:
1 Quality Embroidery
Hat embroidery designs look way more appealing than any other embroidery patch; thus, they call for the immediate attention of your potential customers. Getting prompt brand recognition is possible with the help of hat digitizing services. The latest tech embroidery machines provide quality results for your designs, and all of this is possible with the embroidery file conversion specialists. These specialists run your digital file onto the machine and carry out a picture-perfect embroidered design that is the same as your design.
2 Customization
Businesses can opt for fully customized services. These services offer totally customized design ideas and concepts to further your marketing needs. Thus, staying ahead of your competitors becomes easier if your brand reeks of originality and innovativeness. This option is one of the best features of custom embroidery digitizing services. Professionally trained designers of embroidery digitizing firms can provide tailored solutions and present ideas that are out of this world.
You can also specify the stitch and thread type for your hat digitizing services. In this way, a completely tailored solution is ready for your assistance. Relish in a marketing strategy of the highest caliber with the help of such customization services that can uplift your brand with professional work. Staying ahead becomes a habit with such tailored hat digitizing services by your side.
3 Complex Design Handling
Hat digitization can be complex at times because of the complexity present in the design reference provided by the customer. However, with the expertise of professionals, the complex design handling goes to perfection, and the result is always as expected. Expert digitizers can accurately bring out the true colors and visuals in their designs with their amazing experience.
4 Time Efficient
Embroidery digitizing services are quite time-efficient. No matter how professional or unprofessional a service provider is, they offer quick service to their customers. Thus, running an expertise check prior to availing of the service is a must. The turnaround time that most embroidery digitizers offer is hardly one day, and for this reason, digitizing services are quite popular in business expansion strategies and tactics.
5 Cost Effectiveness
Digital embroidery, in contrast to conventional embroidery, proves to be more pacy and cost-effective. Thus, it is a preferred choice for many business owners as well as individuals. To cover up most of your branding plans, digital embroidery plays a great part. You name it: hat digitizing services, logo digitizing, jacket digitizing, bag digitizing, shirt digitizing, or any other fabric digitizing. Digital embroidery covers all needs, and that too in great pricing packages.
Most embroidery digitizing companies offer a price per stitch to their customers, while some offer a wholesome price for a single embroidery design file. Those who buy in bulk quantities prefer per-stitch costs as it can save some of their funds.