Embroidery Digitizing For Love Day
Are you looking for a design of embroidery digitizing for love Day? February is the perfect month to share love & kindness with children, teachers, friends & family & lovers. Indeed, you do not want to spend a lot more money after Christmas & new year, but we are here to help you minimize all the cost that makes it easy to share love between your loved ones.
Let's see how you can use torn & old fabric pieces design for embroidery digitizing for love Day.
Royal Present Embroidery Digitizing For Your Friends & Family
You can opt embroidered Happy Valentines Day onto a pocket and handkerchief. You can add it to home decor items such as Pillowcase & Pillow.
It gets stitched on a small pouch for more friends & family options. If you want professional services, you can go for custom embroidery digitizing services from a reputed digitizer.
Embroidery Design Like Be-Mine In Heart Shape
Embroidery design in a heart shape will make you fall in love again with your friends & family. It looks cute on one side for a little one, or on a towel for your loved one. A zippered pouch is a good option for teenagers & adults.
Few More Embroidery Heart Shape Ideas To Make Feel Special To Your Loved Ones.
There are many other ways to express your feelings from the bottom of your heart to your loved ones.
1. Make A Simple Heart Shape Card 
Create a simple heart, cut your embroidered heart and paste onto that card—sweet, simple & handmade way to express your feelings to your friends & family.
2. Make A Hooped Wall Hanging Keepsake 
Hanging keepsakes are fun & fast to make. You can use any colour of the background with coordinating thread & fabric. Then you can add text & your embroidery personalized heart shape applique design with phrases, names, & quotes.
3. Make A Pretty Handkerchief For Your Husband 
Husbands often lose their handkerchiefs. You can have a personalized handkerchief for him with an embroidered heart shape to make him feel special. Add a text "I Love You" so he won't lose his handkerchief anymore.
4. Make A Personalized Bag Or Zippered Pouch
You can add embroidery hearts to any zippered pouch. I personally love this one because you can fill this pouch up with little presents like chocolates, jewellery, perfumes and other valentines gifts you like.
5. Use Your Hearts As Applique Embroidery Design 
Applique embroidery is something in which you add one piece onto the background piece of fabric. Create a bunch of heart shapes and attach them onto the other materials like pouches, quilt pieces, clothing, Etc. You can sew your applique embroidery design on purses, socks and other accessories.
Sew Sweetly For Your Kids.
Sew sweetly and say what you feel for your kids on their bags & socks. You have to be more creative & artistic because children love the creativity with vibrant colours. Design of a cuddly bear will bring a sweet smile to your kid's cute face.
Applique Embroidery Design to Cover a Jar With It As Home Decor
You can insert any text or design in a frame or monogram applique embroidery. It is an easy & cheap idea to stitch it on a rectangular shape of fabric to cover a jar with it. You can even use it as a special valentine gift or home decor.
Swak Embroidery Design For Your Lovely Spouse
Roses & chocolates are fine but why not to surprise your sweetie with embroidery digitizing design. Spouse or Girlfriend can have enough heart from his loved one. In Swak embroidery, the heart looks good with the border around it. Celebrate Embroidery Digitizing For love day with Digit-it and try it on the pillow and pillowcase. You can even opt flower patches on anything for your girlfriend the way she likes it.
Here are some lovely ideas that you can give to your sweetie & cutie pie on any special occasion.
Felt Conversation Embroidered Heart Pillow – I Love You, Kiss Me, Hug Me
Embroidered Pink Mister Buddy Bear
Embroidered Blanket Buddy
Embroidery Digitizing Design For Your Newly Wedded Wife
Can you imagine your wife without a beautiful embroidery digitizing design on her outfit? You can give a present to her with embroidery design that comes with different styles & textures. That turns the newly wedded bride's outfit into a masterpiece.
There are many varieties and types of embroidery designs that your wife will fall in love with it.
Abla
Aari
Badla
Dabka
Zardozi
Lari
Crystal & Bead Work
Valentine's Day Embroidery Hoop Art For Your Home & Family
Parents love every minute while children grow up. But will they be able to sew? That question comes into my parent's mind. Suppose you want to get your kids involved with Valentine's craft. It is an easy way to start. Hoop art is the new canvassed print strategy. It gives your room a very positive, delicate and unique vibe. Cute kids are more creative in this art than adults. This is the perfect gift for your mother, sister & wife.
Here is what you will need for valentine's day embroidery hoop art:
Proper cut sized scrap fabric (Natural Linen, Grey Flannel, Swiss Dotted Pink)
3 Different Shades (Pink, White & Grey)
Embroidery Hoops in Different Sizes 
Proper Sized Red & Pink Button
Embroidery Needles & Threads
Tacky or Hot Glue
Sharp Scissor 
Embroidery Digitizing Design is The Perfect Gift For Mummies On Happy Mother`s Day
For Embroidery Digitizing For love day, Mothers are the most beautiful gift from God to everyone. Many people celebrate mothers day almost all over the world to show respect towards the lovely mummies. It enhances, motherhood, maternal bond to influence the mothers in society. Surprise your mom with beautiful embroidery digitizing design by saying "Happy Mothers Day" on any gift you like to give your lovely mother.
Honour Your Father and Mentor On This Father's Day
Not Only celebrate Embroidery Digitizing For love day with mother, but Father's day is also the right time to honour all DADS out there. Fathers are the role model for the whole family. Being a father is not an easy thing but whatever fathers do, it makes a huge difference in children's life. Every hug, joke fathers give and share matters a lot. Time to give an embroidery digitizing gift to your father on this father's day. You can give an Applique father's day card to your dad by saying "My Father, My Hero" or a pair of embroidered gloves. Go with the embroidery flow on this father's day. 
Childhood Memories Give Beautiful Embroidery Digitizing Ideas
Having childhood memories you can always go back to smile. We celebrate children's day every year to celebrate children around you and within you. If you reflect back to your memories you will have many creative and cartoonist ideas in your mind that you can use in embroidery digitizing for kids on this children's day to make them happier. Celebrate embroidery digitizing for love Day
A Friend In Need is A Friend Indeed – Happy Friendship Day
A friend in need is a friend indeed means, a friend who helps you while others step back is a true friend. This describes the most important characteristics of your loyal friend. Embroidery digitizing for love Day can also celebrate like you can  give an Embroidery friendship bracelets are one of the unique gifts you can give to your friend on friendship day that shows the bond between two or more friends
Get Your Discount Rates On Embroidery Digitizing for Love Day DIGIT-IT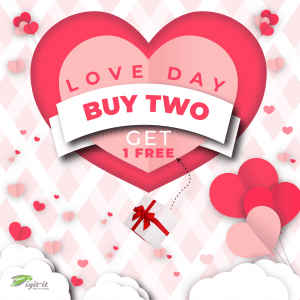 I hope you enjoyed reading this article and got some great ideas about embroidery digitizing for love Day. If you want our professional service, you can contact Digit-it. We offer all kinds of custom embroidery digitizing including, left chest logo, raster to vector, cap digitizing, jacket back digitizing and much more at discounted rates.